Dear Friends,
Praise the Lord, the Spanish translation of the most popular issue of our magazine, The Sephardic Jews, is finally complete, printing and all. Copies are available on our website or at the office – by single copy or multiples. I called one Hispanic Leader in Arizona who networks with other Hispanics and he was ecstatic. Till now, they have used the English version to locate Hispanics with a Jewish heritage. Some have applied and many are considering immigration to Israel. They are bold to believe their efforts will be multiplied with our new special Spanish version of The Sephardic Jews.
Let me further highlight the importance of this Sephardic magazine. Benzion Netanyahu is a historian and demographer. He is also the father of the Prime Minister of Israel, Benjamin Netanyahu. Benzion (son of Zion) estimates there are over 60 million Hispanic Jews in the Americas, most descendents of Jewish families who were expelled from Spain and Portugal during the Spanish Inquisition in the late 1400's. Most became Catholics, by force or choice. Many secretly kept their Jewish heritage and are now re-exploring their Jewish heritage with a view of possibly making Aliyah to Israel. The prophet Obadiah (20-21) predicted a time when Jewish exiles from Sepharad (Spain) would "possess the town of the Negev," that is the desert land of Israel. Our magazine now translated into Spanish will greatly help that growing awareness.  (Order yours online today) 
---
We've been so encouraged by responses to the paintings, The Auschwitz Album Revisited. Based on The Auschwitz Album, a series of photographs taken by an SS guard at Auschwitz in 1944, Pat focuses on individuals and small groups, mostly women and children, their faces and expressions – as they arrived, were processed and lined up for their fate. She has 34 paintings so far and plans to continue with the series. Pat needs your help for extra frames, travel and expenses, and wants you to know she does not personally receive any money for this work.
The opening exhibition was in January and February at Regents University in Virginia Beach, VA, including January 27, The International Holocaust Remembrance Day. Dr. Pat Robertson and his staff really made the experience a five star, red carpet event. The response was both humbling and heart warming. Hundreds came to the event and exhibit of the paintings. Many were visibly moved and indicated so by written responses. Additional exhibits are planned. In May, several may be shown at a location in Washington, DC. Pat has been invited by the Chief Rabbi of Poland to bring the exhibit to the Krakow Jewish Cultural Festival June 26-July 4. The paintings will be on exhibit at Auschwitz during that week. This is a great honor for these artworks and we invite you to join us on this once-in-a-lifetime experience as we show our solidarity with the Jewish people in this time of worldwide growing anti-Semitism.
---
As the Lord wills, I plan to be in Israel for parts of April and May. As the Lord brings it to mind, I ask you to pray for me in the several events there, which I list below in chronological order:
I will be in the Old City in Jerusalem April 20-28, going to the Western Wall for three hours each day to pray and seek God's face in these tumultuous times.
I will be attending A Seminar for Christian Leadership:  The Holocaust, Anti-Semitism and Israel, sponsored by Yad VeShem, the Holocaust Museum in Jerusalem. The dates are April 29 –May 8. Christian leaders from many countries will be given an in depth briefing on the Holocaust and related events, with a view to bringing this understanding to home countries of participants – to build a growing constituency who say "Never Again."  I will take several of Pat's paintings to Yad Veshem for their consideration.
I will be in the Old City of Jerusalem at the Armenian Quarter May 9-15.
May 16-23, I have been invited to take part in an extended briefing by The Israel Law Center that will focus on the Israel Defense Forces' (IDF) analysis of the current threat level, what is currently being done to deal with it and what is expected in the future. We will travel from the Golan Heights to Gaza in this reconnaissance/analysis. I see this seminar as invaluable as we pray & plan for the future ministry of TJCI.
The events in Israel as well as world-wide, rapidly taking place before our very eyes, have Biblical significance. It is my intention for our ministry to be like the "men of Issachar, who understand the times and know what Israel should do." . We already seek God to "Discern the signs of the times." . I believe these seminars at Yad Veshem and the Israel Law Center will greatly enhance our ability to fulfill these goals.
There is an added dimension that I believe will be as important, if not more so, during my stay in Israel. That will be the two weeks I spend in the Old City of Jerusalem. We lived in Israel for three years and have many friends there. But these two weeks in Jerusalem are not to visit friends, as much as I would like to see friends. It is not to tour or visit ancient Biblical sites in and around Jerusalem. My main purpose on staying and focusing on the Old City is to hear from the LORD – whatever He has to say. My prayer for that time is Jeremiah 33:3 "Call on me and I will answer you and will tell you great and inaccessible things that you do not know." (Keil & Delitzsch translates the word "inaccessible" as "things unattainable by human discernment."). God's people and Israel are at such a critical juncture in history that it is imperative to hear clearly from God on what we are do and how and when we are do it. Please pray with and for me during these two weeks in Jerusalem. They are essential for the future ministry of the Jerusalem Connection.
We need your help! We continue to have office, printing, and website expenses for all things related to Israel. Our twice weekly E-newsletter keeps our email friends current on what's important regarding Israel.  We can only do all this with the financial help of our ministry partners. So, please remember The Jerusalem Connection with your charitable giving.
Or Mail your donation to our office at the address below
God bless you and thank you for all you do.
Have a blessed day,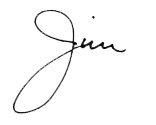 Rev. James M. Hutchens, Ph.D.
Chaplain (Brigadier General) US Army (Ret.)
President, The JerUSAlem Connection, Int'l